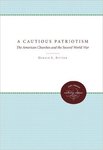 Title
A Cautious Patriotism: The American Churches and the Second World War
Description
World War II was a turning point in twentieth-century American history, and its effects on American society have been studied from virtually every conceivable historical angle. Until now, though, the role of religion--an important aspect of life on the home front--has essentially been overlooked. In A Cautious Patriotism, Gerald Sittser addresses this omission. He examines the issues raised by World War II in light of the reactions they provoked among Catholics, Episcopalians, Lutherans, Unitarians, and members of other Christian denominations. In the process, he enriches our understanding of the relationships between church and society, religion and democracy. In deliberate contrast to the zealous, even jingoistic support they displayed during World War I, American churches met the events of the Second World War with ambivalence. Though devoted to the nation, Sittser argues, they were cautious in their patriotic commitments and careful to maintain loyalty to ideals of peace, justice, and humanitarianism. Religious concerns played a role in the debate over American entry into the war and continued to resurface over issues of mobilization, military chaplaincy, civil rights, the internment of Japanese Americans, Jewish suffering, the dropping of the atomic bomb, and postwar planning.
Publication Date
1-1-2000
Publisher
The University of North Carolina Press
Disciplines
Christianity | History of Christianity
Recommended Citation
Sittser, Gerald L. A Cautious Patriotism : The American Churches & the Second World War. Chapel Hill: University of North Carolina Press, 1997.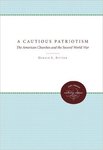 @ the Library
COinS