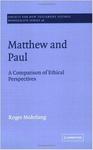 Title
Matthew and Paul: A Comparison of Ethical Perspectives
Description
The purpose of this study is to investigate and compare the basic structures of Matthew's and Paul's ethics, rather than to deal in detail with their teaching on specific moral issues. Dr Mohrlang discusses their perspectives under the five headings of 'law', 'reward and punishment', 'relationship to Christ and the role of grace', 'love', and 'inner forces', and gives special attention to the question of ethical motivation. There is no absolute contrast, however, since elements both of law and of grace are found in both writers, and for both it is their understanding of Christ that is decisive. The comparison is highly illuminating, and serves to throw into clear relief the more striking characteristics of each writer's ethical system. It should prove of considerable value to students both of New Testament ethics and of Matthean and Pauline theology and to those interested in the larger question of unity and diversity in the New Testament as a whole.
Publisher
Cambridge University Press
Disciplines
Biblical Studies | Christianity
Recommended Citation
Mohrlang, Roger. Matthew and Paul : A Comparison of Ethical Perspectives. New York: Cambridge University Press, 1984.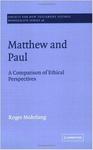 @ the Library
COinS