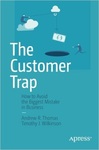 Title
The Customer Trap: How to Avoid the Biggest Mistake in Business
Description
The Customer Trap argues that all companies, regardless of the industry there are in, should maintain control over their sales and distribution channels. Volume forgone by avoiding the mass market is more than offset by higher margins and stronger brand equity. This book demonstrates how to avoid falling into asymmetric relationships with the big-box stores, maintain independence, protect brand and margins, and make more money than ever by creating and controlling sales channels.
Disciplines
Business | Business Administration, Management, and Operations
Recommended Citation
Wilkinson, Timothy J. and Andrew R. Thomas. The Customer Trap: How to Avoid the Biggest Mistake in Business. Apress. 2015.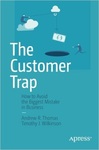 @ the Library
COinS