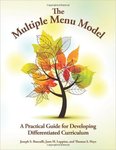 Title
The Multiple Menu Model: A Practical Guide for Developing Differentiated Curriculum
Description
Based on constructivist learning theory, The Multiple Menu Model presents six practical menus that guide curriculum developers as they bring together an understanding of a discipline, its content and methodologies, and a vast array of instructional techniques. Using the six menus, step-by-step planning guides and reproducible templates, curriculum developers and teachers can differentiate lessons and challenge all students with opportunities for "high-end" learning, use "real-world" investigative skills in the classroom, teach enduring concepts and principles instead of trendy topics and transitory information, and engage students in pursuing topics of their own personal interest.
Disciplines
Curriculum and Instruction | Educational Methods
Recommended Citation
Hays, T. S, Leppien, J. H., & Renzulli, J. (2000). The multiple menu model : A practical guide for developing differentiated curriculum. Waco: Prufrock Press.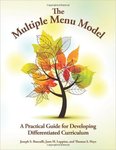 @ the Library
COinS