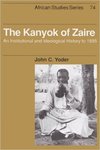 Title
The Kanyok of Zaire: An Institutional and Ideological History to 1895
Description
John Yoder chronicles the history of the Kanyok, a people from the southern savanna of Zaire, from before 1500 until their incorporation into the Congo Free State in the 1890s. By analyzing their oral traditions, myths, and legends, the author describes the political and cultural development of a people who, before 1891, had no written records, and whose history has previously been confined to the stale recitation of wars and succession struggles that characterize many existing books on pre-colonial Africa. Yoder sets his work firmly within the larger context of the southern savanna by extending his investigations to the traditions of neighboring peoples, in particular to the Luba and Lunda, whose empires once dominated the region. In this way, he demonstrates how the same stories and ideas circulated over a vast area but were continually adapted to local circumstances.
Publisher
Cambridge University Press
Recommended Citation
Yoder, John C. The Kanyok of Zaire : An Institutional and Ideological History to 1895. New York: Cambridge University Press, 1992.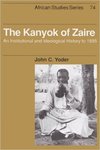 @ the Library
COinS