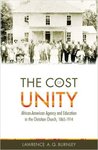 Title
The Cost of Unity: African-American Agency and Education and the Christian Church, 1865-1914
Description
Like other Protestant organizations in the United States, the Christian Church was involved in the establishment of schools for African Americans in the South in the years following the end of the Civil War. The most widely read books offering an interpretation of the history of this church tend to relegate the role of black people to passive recipients of white benevolence and largesse in this process of education reform. This book examines the agency of African Americans in the founding of educational institutions for blacks associated with the Christian Church. The philosophical discourse within the Christian Church concerning the purpose, type, and control of these schools is examined as well as the prevailing racial assumptions and attitudes that informed each of these areas. The author argues that African Americans within the Christian Church played an active role, both in cooperating with Disciples' mission agencies, and acting independent of these agencies, in the conceptualization and founding of schools for their communities. In addition, contrary to Disciples' reformers claim of being motivated by their desire to 'elevate the Negro race', the nearly exclusive application of the industrial model of education in schools established by the Disciples of Christ mission agencies for African Americans reflects an intentional effort by whites within this movement to encumber African-American efforts to achieve socioeconomic and political advancement, autonomy, and self-determination. Finally, the conservative approach to schooling for African Americans was largely the result of northern Disciples' acquiescence to the demands of Southern members of the church for the sake of maintaining unity within the national church.
Publisher
Mercer University Press
Disciplines
African American Studies | Cultural History | History | History of Christianity | Social History | United States History
Recommended Citation
Burnley, Lawrence A. Q. The Cost of Unity : African-American Agency and Education in the Christian Church, 1865-1914. Macon, Ga.: Mercer University Press, 2008.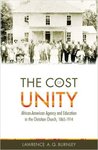 @ the Library
COinS