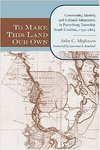 Title
To Make This Land Our Own: Community Identity and Social Adaptation in Purrysburg Township, South Carolina, 1732 – 1865
Description
On the banks of the lower Savannah River, the military objectives of South Carolina officials, the ambitions of Swiss entrepreneur Jean Pierre Purry, and the dreams of Protestants from Switzerland, France, Germany, Italy, and England converged in a planned settlement named Purrysburg. This examination of the first South Carolina township in Governor Robert Johnson's strategic plan to populate and defend the colonial backcountry offers the clearest picture to date of the settlement of the colony's Southern frontier by ethnically diverse and contractually obligated immigrants. Arlin C. Migliazzo contends that the story of Purrysburg Township, founded in 1732 and set in the forbidding environment bounded by the Savannah River and the Coosawhatchie swamps, challenges the notion that white colonists shed their ethnic distinctions to become a monolithic culture. He views Purrysburg as a laboratory in which to observe ethnic phenomena in the colonial and antebellum South. Separated by linguistic, religious, and cultural barriers, the emigres adapted familiar social processes from their homelands to create a workable sense of community and identity. Migliazzo details the community's changing military and economic fortunes, the gradual displacement of its residents to neighboring communities, the role of African Americans in the region, the complex religious life of township settlers, and the quirky contributions of Purry's climatological speculations to the fateful siting of this first township.
Publisher
University of South Carolina Press
Disciplines
History | United States History
Recommended Citation
Migliazzo, Arlin C. To Make This Land Our Own : Community, Identity, and Cultural Adaptation in Purrysburg Township, South Carolina, 1732-1865. Columbia: University of South Carolina Press, 2007.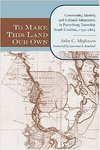 @ the Library
COinS