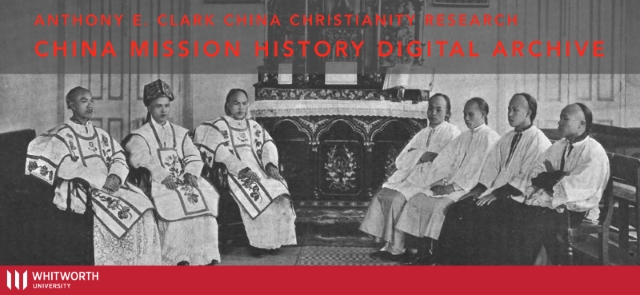 The historical photograph and print collection represented here consists of images held in the Sino-Missionary image archive, presently housed at Whitworth University's Department of History.
These historic images derive largely from the private collection of Anthony E. Clark, though other images have come from such places as the collections of the Order of Friars Minor (OFM, Franciscan), Congregation of the Mission (CM, Lazarist/Vincentian), Paris Foreign Mission (MEP), Maryknoll (MM), and Society of Jesus (SJ, Jesuit) collections throughout the world. We acknowledge the kind permission of Fr. Pedro Gil, OFM (Franciscan Curia Archives, Rome), Robert Bonfils, SJ (Jesuit Archive, Vanves), Fr. Elias Cerezo, SJ (Jesuit Archive, Taipei), Fr. Claude Lautissier, CM (Lazarist Archive, Paris), and Mr. Eric Henry (MEP Archive, Paris), for kindly allowing several of their important images to appear in this collection. We also thank the Special Initiative Fund at Whitworth University for supporting this work.
The images posted on this webpage represent only a small portion of the much larger collection of original and duplicate images held in the "History of Christianity in China Archive," presently directed by Professor Anthony Clark. In order to honor rights and permissions, any use of the images posted on this webpage should be approved by the respective repositories in which these images are preserved. Responsibility and liability for any use of the images presented by the China Mission Digital Archive rests exclusively with the user of the materials. Transmission or reproduction of any materials protected by copyright beyond that allowed by fair use requires the written permission of the copyright owners.
Browse the China Mission History Image Collection: